Getting Started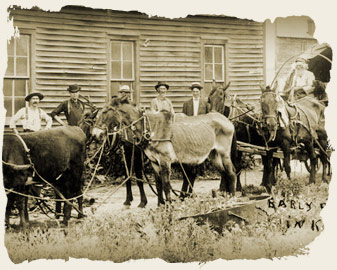 Early days in Kearney, Neb. (1860 and 1870?) / Butcher, Solomon D., Library of Congress Prints and Photographs Division Washington, D.C. 20540 USA
Co-founder Sarah McCue was one of the first people to complete her autobiography on The Remembering Site. Having gone through the experience, she thought it would be helpful to share some words of encouragement and helpful tips:
Answer as You're Inspired
When I first started writing my biography, nothing could stop me for the first few chapters. Being the orderly person I am, I thought it would be best if I went question by question, chapter by chapter. Ugh! Definitely not the way to write your autobiography. I soon learned that some days I wanted to write about my career, other days I wanted to write about childhood friends, while other days I was in the mood to write about more philosophical or "meaning of life" kinds of issues. The ability to jump around the site is very important.
Go Ahead and Cry
Another thing to remember is that this is going to be a rather emotional experience for you. While we encourage everyone to stay positive, it's a fact of life that sadness, illness, death, betrayal, divorce and untold other bad things happen to us. While many of you may decide to write about these experiences, others of you will choose to avoid them. The point to remember is that as you think about these life experiences, you are going to be stirring up many old memories - both good, bad and bittersweet. At some point you might just want to allow yourself a Big Cry to release the jumble of emotions and memories inside of you.
You're Going to Get Bored
Let's admit it. There are parts of our life that need to be included in our biography but they're just boring to us. Maybe your high school years were ho hum and you find it boring to answer the questions. Maybe you just didn't have an inspiring career. First off, you're not obligated to answer any questions but if you don't include anything in the High School Years chapter, your family will wonder what you were doing for four years. The advice we'd like to give is to take the boring parts in small doses and focus on the parts of your life that are more interesting to you.
Share Your Experiences With Others As You Write
Don't be shy. Pick up the phone and call someone who might want to hear how you've answered a particular question; send them a hard copy of your draft (just go to the "Share" button); or e-mail a section of what you just wrote. You're guaranteed to get words of encouragement, positive feedback, and help bringing into focus some memories that are fuzzy to you. In fact, in some of the answers in my Remembering biography, I include my Mom's verbatim response because it adds her perspective and brilliant humor.
Pace Yourself
"I just don't have time!" is the most popular excuse people in their 30s and in their 80s and 90s give us as the reason why they aren't progressing as quickly as they would like. Writing an autobiography DOES take time, reflection, and relaxation as we try to convey our experiences.
The best advice we can give is to pace yourself, make it part of your daily or weekly routine where you might decide to get up an hour early each day or stay up a couple hours later each night. Or maybe you decide to do it on your lunch hours at work. If you don't carve this time for yourself, your biography will be something that you'll get around to but Life will tend to get in your way.
This is one of the most important gifts you'll gift to your family and friends so give yourself some time every day or once a week to write your autobiography.
How Long Should It Take?
Some of you may take a month; some of you may take a year to write your biography. Take as long as you need. What's more important is to establish your own rhythm. Make an appointment with yourself to write ... you can write for 15 minutes before you go to work, you can write for an hour before you go to bed. Pretty soon you will become addicted to the process.
So Remember ...
You are writing a biography for all of your family to read for generations to come.
Continue at your own pace, but set a pace.
Take your time so your children and their children's children will know you completely.
The things most real are the things we can't see. Tell them all about your delights and concerns.
Show yourself, warts and all so your family can learn from you and about you.
Your sense of humor will come through for generations to read.
Every time you write, you are making progress.
You can answer the questions in any order you like.
Sit loosely in the writing saddle.
Feel good in knowing that you are gathering the story of your life in one central place.
Enjoy this once in a lifetime process!
How to Get Started
Look through the questions before you begin to write. Familiarize yourself with them; choose which you want to answer first. You don't have to answer them all, and you don't have to follow any particular order. The mind loves an assignment. Your stories, your answers will come when you don't even know you're thinking about them. Then sit down and begin.
Go through old albums, scrapbooks, boxes of photographs and memorabilia. They will help jog your memory, and immerse you further in your project. You can include up to 200 photos and documents in your autobiography. To learn how, click here, or click the Upload Photos link in the top navigation.
Write at your own pace. Memories beget memories. Enjoy yourself at the keyboard. And please remember, we're here to help.
With you,
Sarah McCue with DG Fulford