About Us
The Remembering Site is for all of you who want to write and publish your life memories, experiences, memoirs, or autobiography but have been overwhelmed at the prospect. For just USD $25 (annual subscription that can be canceled at any time), The Remembering Site contains over one thousand evocative, story-telling questions to lead you through the process.



Describe family holidays. Did you eat lunch at school, or did you go home for lunch? If you went home, who was waiting for you when you got there? Do you remember your first kiss? Describe your career. What was the happiest moment of your life? The saddest?
Anyone can tell their story when they know what questions to ask themselves. The answers are inside you. Read a question and the answer is there. It's easy. It's fun. There are no rules. Tell your story in your own voice. Only you can.
The collective memory of our society is not written in history books. It is the story of all of our lives; what happens in our living rooms and in our back yards. The Remembering Site helps you capture your memories, photos, and experiences to share with posterity; to create an Internet-based anthology of personal histories so we may learn from one another.
Our goal is to make it easy for anyone, anywhere to write and share their autobiographies. Since launching in the 2004, people from around the world have registered to write their life story. People from Australia, Bangladesh, Canada, Cuba, Germany, Ireland, Poland, Philippines, Sudan, South Africa, Switzerrland, and the UK. Because everyone has lived an interesting life.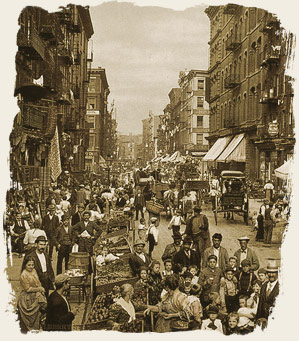 Mulberry Street, New York City, Created/Published ca. 1900, In album prepared by Detroit Photographic Co. to use as a catalog in its office. Library of Congress Prints and Photographs Division Washington, D.C. 20540 USA
We encourage each and every one of you to write and publish your memories and experiences to share with your families and future generations, to add to our collective memory, and to enter a global conversation about the moments in our lives.
The Remembering Site is a partnership initiative with Women with 2020 Vision, a 501 (c) 3 non-profit organization.